On the Road with Texas Biennial Curator Leslie Moody Castro
September 29, 2017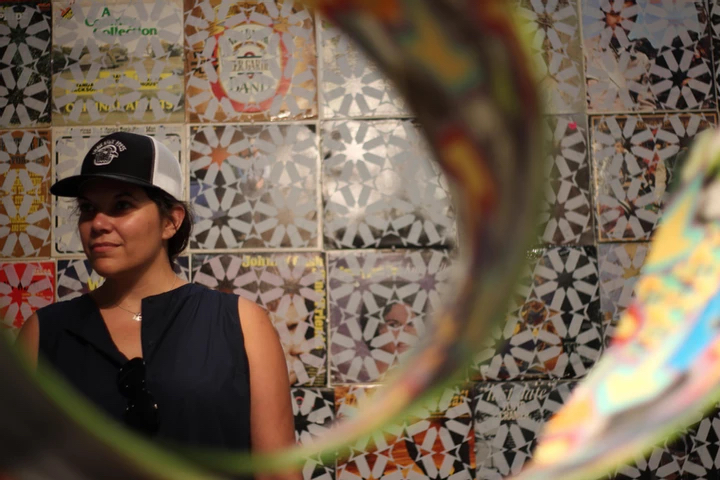 I was having lunch with artist Luis Felipe Ortega in Mexico City. It was nearly independence weekend and the independence spirit was being felt across the city. I had only been back home in Mexico City about a week after an epic road trip across Texas. In total we drove an estimated 11,000 miles, which is the equivalent of crossing the entire country three times, in seven weeks. After the trip I escaped to the beach and disconnected for five days in order to allow the mental and emotional space I needed to process and reflect on the experience. More than a week later, sitting at the table with Luis Felipe and looking down at my chile en nogada, I realized I had underestimated the number of days I would need to fully process it all. He was asking about the trip and there I was feeling frustrated that I couldn't adequately articulate my thoughts.
Since coming off the road I had been bombarded with questions about the trip, specifically, "How was it?" and the question would send me into a personal tailspin of anxiety—much more than I felt when actually tackling a trip of such enormity. Perhaps because I've known Luis Felipe for so many years as a mentor, or because of his intuitive capacity, or perhaps because of his own long history of mentorship in general. But somehow Luis Felipe felt my frustration and shifted the conversation from the trip itself and into the frustration I was feeling because of my lack of articulation.
Luis Felipe Ortega is an artist based in Mexico City who I've have known for a long time. His career has been shaped by his artistic practice but also by his strength as an educator, mentor, and record keeper. Luis Felipe holds the archive of much of the history of art in Mexico City in the 1980s and early 90s. Along with artist Tania Canadiani, he represented Mexico in the 2015 Venice Biennial. He is an artist I admire greatly and I value his perspective. His questions are challenging and allow for moments of introspection rather than offer a platform to think through specific answers. Having a conversation with him always turns into a conversation about criticality and without fail forces me to get to the bottom of my doubts. To have Luis Felipe's ear and advice while I was in the position of curating a Biennial was indeed lucky.
I began to explain the micro-moments of the road trip. I told him about the drive through Palo Duro Canyon outside of Plainview, Texas, followed by sitting through a musical that told the story of the colonization of the Panhandle of Texas through the most problematic display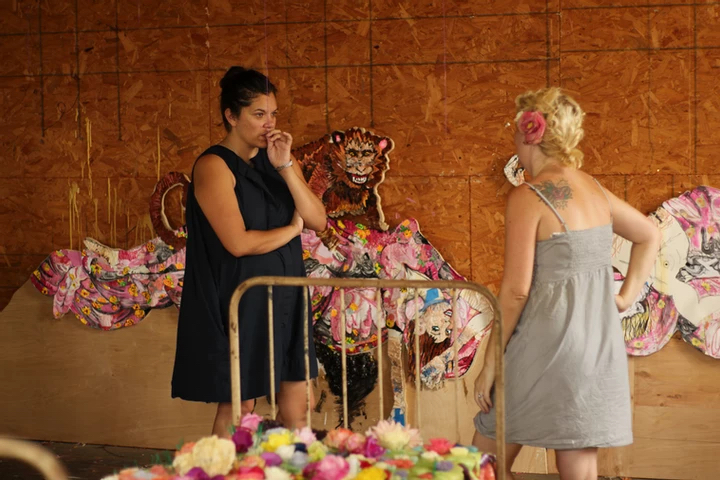 of nationalism I've ever witnessed. I told Luis Felipe about the 11 thousand miles; the 14-hour days; about my grandmother who lives in the Rio Grande Valley; and about the suspension of personal time and space the trip required, which I was not prepared for. I told him about feeling at home in Lubbock; the stress of driving through a torrential rainstorm between Marfa and Laredo; and the stress of driving a 15-year-old car from Midland to El Paso. I recalled the story of walking atop Robert Smithson's final land art piece in Amarillo with artist Jon Revett, and about all the real friends I had made along the way who continuously made me feel safe and taken care of.
I am at once open and willing to answer any question from anyone but also irrationally (at times) protective of my own personal life and space. I explained to Luise Felipe the strangeness of arriving at a new place where everyone I met knew where I had been, where I was coming from, and who I had seen. I had joked many times that I felt I was on a road trip with the entire state, but sitting there with Luis Felipe and recalling those moments I realized how true that really was. However, it wasn't until Luis Felipe looked at me and asked in Spanish "At what point in time did you realize that you were simply a conduit for something that became bigger than yourself?"
I let the question sink in a little bit, and I sat there pondering it further. At that exact moment the waitress brought our check on a small saucer with a handful of traditional Mexican candies which, unsurprisingly, Luis Felipe used as a metaphor. He took the saucer and the bill and explained that the candies were just such a tiny gesture, as a matter of fact, they weren't very good. Yet it was the smallest gesture of placing those colorful candies on the saucer that ended the experience of eating lunch and made receiving a check so much more thoughtful, as if there was a gratitude in the gesture. The candies are inanimate, they are just objects, but they are a conduit for an emotional impact, no matter how big or small.
Luis Felipe looked at me as he passed the saucer and said, "it's just like you. All you did was travel from place to place, but the impact of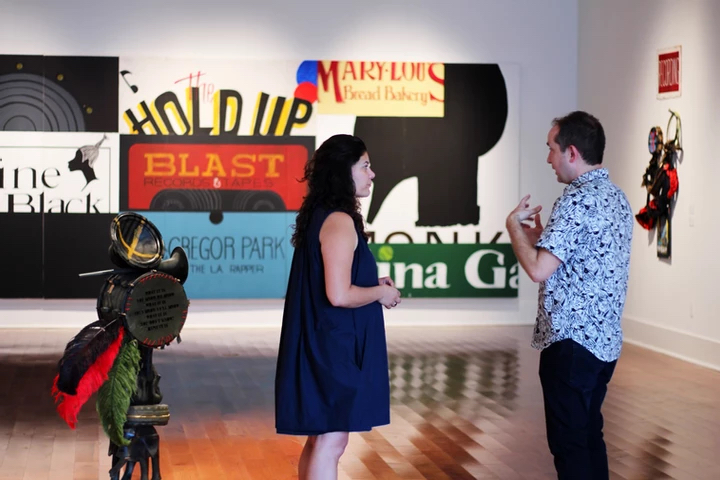 that gesture was bigger than you."
I walked away from that lunch with the understanding that during this road trip we had all contributed to something that was so much bigger than we could have expected. It was something that we all needed, including myself, and somewhere in the middle of it the trip shifted to become something that really did involve the arts communities across the state, it wasn't just a feeling I had along the way. The road trip was, indeed, much bigger than myself, a biennial, or even just an exhibition. For the first time in a long time, our communities across the state became connected, and that connectedness would serve as a foundation of support in ways I would never have been able to imagine in the weeks following.
Leslie Moody Castro is an independent curator who splits her time between Austin and Mexico City. The 2017 Texas Biennial, an independent survey of contemporary art in Texas and program of Big Medium, kicks off September 30 – November 11, 2017 at 211 E Alpine Road in Austin, TX. The opening event on September 30 will be from 7-10 p.m.
Photo Credits:
View of Plainview, Texas, from the road. Courtesy of Big Medium. (Cover Image)Leslie Moody Castro in the studio of Jon Revett in Amarillo, Texas. Courtesy of Big Medium.Leslie Moody Castro and Ann Wood in Galveston, Texas. Courtesy of Big Medium.Leslie Moody Castro and Galveston Arts Center Curator Dennis Nance in Galveston, Texas. Courtesy of Big Medium