Christine Gwillim & Brianna Figueroa on Collaboration, Ethics, and Institutional In-betwe
February 9, 2018
We read. We talk. We write. We make art (sometimes). Not always in that order.In this essay-conversation Brianna Figueroa and Christine Gwillim discuss how we found a common cause in ethical programming, criticism, and art-making through two radically different academic projects.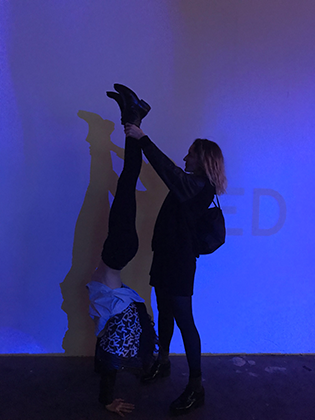 B +C: We're academics. Sort of. We're also artists. And activists. It seems like the one thing that holds performance studies together as a field is that the folks in it are all hybrids, like us…
C: For me, performance studies is the only place that academia makes sense. I need to read some of Foucault's History of Sexuality then go see Luke George and Daniel Kok's Bunny at TBA in order to think simultaneously about kink, audience consent, and the construction of western sexuality. The theory only really sings when I think about it in relation to art, and my art is better when I have to hold it up to the standards of theory.
B: For me, performance studies and the interdisciplinary perspective is provides is a necessity. I came for my PhD because I couldn't find a comfortable place for myself in the dance world. I was seeing and working with white, economically privileged choreographers who were compulsively cycling material they positioned as "universal" without questioning why or who for. I wasn't connecting with these artists and I felt lost in the work I was performing. Moreover, these were the same artists under whom I developed my skills and ideas about choreography. When I started making dances from my perspective as a Latina, I quickly understood the inability of these mentors to offer feedback. I knew that I needed new ways of working and I felt a desire to hone my aptitude in critical studies so that I could better articulate my ideas within my own choreography and instigate meaningful dialogue with others both within and outside of my cultural frame of reference. My scholarship offers a framework for Latinx criticism in dance while drawing the ignored history of Latinx concert dance making in the US into the archive. Latinx participation in concert dance often activates a confrontation with Western values. I ask,"What is the environment in which Latinx artists participate in concert dance? And, how can we find better ways of curating and working through that environment?" My current project zeros in on the repertory of Ballet Hispanico, a forty-seven year old contemporary dance company located in New York City. I am encountering a complicated body of work, some of it profoundly illuminates the Latinx experience but other pieces appear to pander to reigning stereotypes and colonialist desires. I put Ballet Hispanico's programming into its historical context in order to reveal how the body of work is informed by, and negotiating with, the racist pushback and biased critical network the company encounters.
B+C: It seems like we're always trying to find that sweet spot between making art, writing critically, academic research, and activism. It can be hard to find the time and space to make performance work; but, being in academia gives us access to both language and intellectual framing and cultural capital/institutional affiliations that we wouldn't otherwise have as independent artists.
C: For example, I met Ron Berry at Fusebox through UT, even though I lived and worked in Austin before coming to UT. I only met individual artists when I auditioned for their work or attended performances, but didn't even think to seek out organization leaders. Similarly, I interned at the The Kitchen and did a project with the Library of Congress because of institutional relationships at NYU. I'd worked with informal archives in my artistic practice before NYU, but access to the staff and documents at both of these institutions (and the Fales collection at NYU) deepened my understanding and gave nuance to my work. Scholarship is legitimizing and presents graduate students as benign information seekers, so we get access to organizations and their infrastructure that emerging artists don't.
B: Seeking the backing of a major University has legitimized my advocacy for Latinx dance making. It has provided me access to artist's time and archives in ways that I simply could not manage prior. As an independent Latinx artists from rural Wyoming, I felt isolated from the cosmopolitan centers where dance was circulating with more energy and currency. As a dance researcher and scholar, I can bridge this difference. I can approach large, established institutions like Ballet Hispanico who value my efforts and so have reason to respond to inquiries and trust that I will treat the information with care. Much of my research directly relates to and informs my individual artistic practice, but my relationship to the academy has repositioned me as an expert with the very real ability to support the artistic practices of others too.
B+C: One way to use the access provided by the academy and the knowledge and skills we've developed is to address institutional holes that perpetuate inequalities of access and representation. We have both turned our attention to programming as a source of ethical consideration that can disrupt patterns and gaps in representation. This is a result of many collaborations together and hours of conversation unpacking the more difficult aspects of our research together. Artist/scholar Susan Sontag warned that the "Rules of taste enforce structures of power," and together, we question the pressure to succumb to particular artistic tastes in our respective and shared fields and put our research to use to better identify and address new ways of responding to and curating performance. We want our work as scholars to be directly applicable to our artistic communities. Given the many outstanding inequalities of the performance world in terms of race, gender, and sexuality we are considering the ways that programming intersects with notions of identity and power and how we can better utilize programming to simultaneously support artists and observers in more intimate and sensitive ways.
C: My dissertation came out of this line of inquiry. It analyzes the contemporary performance festival environment, and is an extension of our ongoing conversation about ethics. Our collaboration influenced Riding With…, an interactive sound installation presented as part of the 2017 Fusebox Festival. I developed it with Fusebox's longtime collaborator, Jeff Mills. Riding With… was, in part, a response to Brianna's experience doing archival research on Latinx dance makers in which she was reliant on formal critique of Latinx work written by white reviewers—the archive itself is never neutral and its offerings can be painfully limited. I was moved to see how I could use my position as an artist/scholar to upset that dynamic by offering participant driven responses that would simultaneously inform the festival toward more responsive programming and exist as part of an official archive of the festival. I love festivals for their energetic atmosphere and the possibility for invigorated conversation and cross-pollination that the exhausting marathon of art and activities provides. But, simultaneously, I see infrastructure issues within the format that privilege cis-white men and chronically devalue the voices of women of color and queer folks. Riding With… attempted to bridge the distance between casual observer, avid art consumer, artists, and scholars (like Brianna) who all participated by taking rides and generating dynamic conversations with folks who wouldn't otherwise contribute to the festival's official archive.
B+C: We are both questioning whiteness and hegemony in the interdisciplinary performance scene, and imagining new ways to frame and contextualize work. Linking these patterns to policy shifts and some of the same inherited infrastructure that Brianna sites for Ballet Hispanico has helped us both to imagine potential futures in contemporary performance. Scholarship gives us the space to ask uncomfortable questions about the work that we love. It is important for us that we not only critique work but that we also make actionable responses and find other ways of working. Right now that looks like developing a vocabulary for supporting work by Latinx and other artists of color as well as queer, femme work. We count ourselves among the next generation of programmers with a desire to build conscientious connections that challenge exclusivity and normative notions of performance.
Brianna Figueroa is Latina dancer and choreographer with an MA in Performance as Public Practice. Her choreography is interested in Latina epistemologies of healing and divinity. She uses dance to ground new self-made spiritualities by re-embodying the holy trinity as a unit of femme diosas for example.
Christine Gwillim is an interdisciplinary artist with a background in film and theatre. Her work focuses on queer and feminist methodologies in performance and sound. She received her MA from Tisch School of the Arts at NYU where she created a series of performances about her childhood as a pro-choice evangelical Methodist in which she ate whole raw eggs.