AKIRASH and Magdalena Jarkowiec
March 9, 2018
Olaniyi Rasheed Akindiya aka AKIRASH and Magdalena Jarkowiec are multidisciplinary artists who reside and make work in Austin. AKIRASH's practice investigates global human connections across time and space, navigating between the personal and the universal, paying close attention to the relationship between rural and urban life. His work incorporates embroidery, painting, performance, sculpture, and a wide range of found objects. He has exhibited extensively both nationally and internationally, including the Dak'Art Biennale and the International Multimedia Festival Yagon-Myanmar. Magdalena's practice encompasses dance, performance, and soft sculptures. Her work is an enquiry of daily existence, with an emphasis on memory and personal family history, often rendered as humorous. She has worked with internationally recognized choreographers, most notably Alonzo King in San Francisco. Both Magdalena and AKIRASH will premier projects as part of Fusebox 2018. Magdalena's IN HERE is a dance performance and installation piece and AKIRASH's SASO L'OJU EGUN / BEHIND THE MASK is a contemporary interpretation of traditional global masquerading costumes and rituals. The following are excerpts from conversations between the two artists that took place during recent studio visit exchanges. Magdalena and AKIRASH discuss their practices, works in progress, and their shared love for old sewing machines and discarded objects.
AKIRASH: So how did arrive on the technique of using cloth to make forms?
Magdalena Jarkowiec: Well, I sew. I make most of my own clothing, pants, and stuff. I was always interested in sewing because during my grandma's summer visits here, she would make us a whole wardrobe. I am originally from Poland. My mom didn't like American things, you know what I mean? My mom felt like they weren't high enough quality. She thought they were shitty. So my mom would just put me to work. So that's why I started sewing. When I was in college in Florida, I had a lot of creative friends and it occurred to me one day that I could make a big doll, basically. So, the first sculptures were just dolls, made the way you would make a doll: two pieces of fabric sewn together and stuffed. It just got more sophisticated, like more three-dimensional, over time.
A: And so how did you combine the dolls, the sculptures, to performance? How do they relate?
MJ: I think the reason I make bodies is because of dancing. I have been dancing my whole life. I am a dancer first. I started when I was seven.
A: So, what is the process for your ideas … what inspires you?
MJ: I put pieces together in my brain and imagine them in space. For example, I got that chair first. I noticed you use found objects a lot too. I like that chair a lot, so that is the first thing. I know I want the chair to have an artistic life and not just be a thing because the chair is so great. Then I think about what body parts I want to assemble onto it that still make the chair visible. I usually have a couple of anchoring ideas, in this case a really long neck and legs that are not whole. I think a lot of times when the dolls have all their body parts, it's just too much to look at. Right now I am just obsessed with this fabric and I only want to use various colors of this fabric. I am always wanting something bright. I was really into floral stuff for a long time too, like upholstery fabric, for the same reason that I like the chair. Even though it is used for something so regular, to me it still has this life of its own. It's much more than just upholstery.
A: And the metal that is inside it?
MJ: Well, my husband welds. So, he welded this rebar to the chair but then I discovered PVC and PVC is amazing.
A: Yes! It is easier and also flexible.
M: Yes, that made a huge difference. Because a lot of times the sculptures are so light, so a light skeleton works a lot better. And it is also strong. For a long time, I installed my work outside… anywhere… like in the parks, and PVC will last forever. It's so light, but it can withstand everything.
A: What are you working on for Fusebox Festival 2018?
MJ: For Fusebox, I am doing a dance piece inside a house. It is going to be presented at the Museum of Human Achievement. I am building a plywood house that is 20 X 20-ish, basically a box with a ceiling, that we are going to carpet in something very bright, maybe orange or red. There will be four windows and the audience will actually watch through the windows. It is just going to be two dancers. One will probably be me.I want it to be me and a man, which is hard because in Austin there aren't many men who aren't already working for Ballet Austin. It's going to be a short dance, like 12 minutes and with bright costumes. It will be done repeatedly. The plan is we'll do the performance and then a new group of people will come in and we'll change our costumes into identical costumes, but the old ones will get kind of strewn around. For me there is a big visual aspect to it because we're inside this colored box and we're going to be wearing these bright colors ourselves. So that's where the dance and the sculpture cross for me. When I come at the choreography for a project like this, it is very sculptural to me, colored shapes moving within a confined and differently colored space.
A: Do you have a theme or a concept that you are working with for your performance?
MJ: No, the performance is just about color and space. A lot of times, the dance work I make does not have a story but at times there are themes like family stuff, memories. The evening length work I made last year was about the experience of being a kid alone at home with your siblings, about the chaos of it.
A: I don't have too many rules when I am sculpting either. I want to play with the materials. I want to become a partner with the material, working hand-in-hand; especially since I never actually learned how to use machines. When I wanted to do this project, I had just started sewing. So, I feel I am ready to make mistakes and through these mistakes I will make a production for myself.
MJ: I like how you said that it is about being partners with the materials. For me it is not like a design process where you have an overarching idea. It is more like a relationship. Every material is an individual with its own demands and limitations. To me that is part of the fun, because for me, all inanimate stuff is so animate.
A: Of course. So, do you do a lot of weaving and a lot embroidery?
MJ: No, I actually don't. That is a Serger sewing machine that I use for the dolls a lot. The seams have to be surprisingly strong. They have to be finished on the edge. I was intimidated by Sergers, and they can be extremely expensive, but then I found a used one I could get for $130.00 and it's genius.
A: What is this?
MJ: This is like the nicest machine in the universe, it's a Bernina 830. You can still buy it on Craigslist for cheap, like 400 dollars, on EBay it's 800. It's from the 80's and someone gave it to me. The motor broke one day and I cried.
A: Is it very hard to find?
MJ: It was easy to find the motor in the end. This is like my baby and someone gave it to me. I am so frugal I would never spend $800.00 on a machine. It works so well on heavy things and also stretchy things. It works really well on all fabrics.
MJ: Yes, that is why I want it too. I will have to look for one. Old machines are so much stronger. I am going to write the name down.
A: There was a performance of yours that I saw, where you were attached to a box.
MJ: That was fun for me. It was in June and I was pregnant. I also did a dance where the dancers' arms were connected. I like it when you have some kind of a weird constraint because then you have to make very different choreographic choices. With choreography it's easy to make the same choices over and over again, especially because it is your body. With visual work you have the material which has its own direction instead of it being just you and your body.
MJ: So, you did a yearlong residency in Australia. That sounds like a dream.
A: It's a dream but very tough. It is very competitive because they only accept one artist a year. It comes with good funding of 40,000 Australian dollars, with 25,000 for projects and 15,000 for the artist. They also provide you with housing, a car and a huge studio.
MJ: And what machine is this?
A: A Singer. The person who sold a pair to me said that they weren't working well, but I used the parts from one to repair the other one which I now use to sew.
MJ: You repair the machines yourself?
A: Yes, I do.
MJ: So, is all of this part of your Fusebox project?
A: Yes, all of it.
MJ: Wow, this is elaborate, very elaborate in terms of labor. Where do you get all this fabric, your materials from?
A: I get most of my material from thrift stores, Goodwill and Salvation Army.
MJ: Wow, this is elaborate, very elaborate in terms of labor. Where do you get all this fabric, your materials from?
A: It changes a lot and depends on what exactly I am working on. When I start something, I look for materials that relate to it. I might find what I am looking for or end up finding something else. Like yesterday, when I was out looking some materials to add to the Twins costume I am creating now, I found wrist watches at the Austin Reused store. No I will add them to the Twins costume to make the story clearer.
MJ: Tell me more about these costumes. Are they referencing something beyond your imagination, more traditional costumes?
A: It is referencing a masquerade tradition called "Engungun," which is originally from West Africa and mostly from the Yoruba people, which is where I am from in Nigeria. It is also present in the Republic of Benin, Togo and many other parts of Africa. There is the Halloween practice in America that involves using masks. Then in Mexico you have the celebration of the Day of the Dead. A lot of cultures have traditions pertaining to masquerading and costumes. There is reasons associated with the choice of colors used in the masks as well as a purpose for their use. For example, this green costume is presented in front of the king's palace during farm harvest before the farmers and the people start eating or sell their farm produces. The masquerade will accompany the king to bless the farm produce in a prayer lead by a masquerade in green costumes. After the farm blessing, permission is given to the farmers and town people to eat, share, and start to sell their farm produce.
MJ: Everything is repurposed, mirrors and beads. Is that common when these costumes are made traditionally?
A: Well not that they use re-purposed materials traditionally to create the costumes. But I use re-purposed materials in my works. In this project, I want to connect the past to the present. I want to create this works to fit within the contemporary art works of today without losing the meaning, stories, and importance of masquerades. My idea for this set of work is to present them as sculpture and as a wearable at the same time.
MJ: I love the variety of objects involved and seeing everything together, the clutter of it. Even though there are so many pieces, they are more visible together, like you have it. And adding a performance element to the work is a way that you made people a part of it. You make an object and then you come up with this powerful way for people to interact with the object in a deeper experience, going through a ritual with it.
A: The reason why I got into performance is to be able to use my body and to bring my sculptures, as an object, to life by assisting in telling the stories behind the sculptures. As artists we put these things into the world and we have to think, "How do we make them lively?" Like you do a sculpture and it is just standing there, now how do you make it more interactive, speaks for itself, communicate with whoever comes across them, engage with beyond?
MJ: Yes, a way to communicate the life that you see in it because as the artist you don't just see the object. You see the time you put into it, your whole process… and performance is a way to animate the object for other people. I really like using objects that have no purpose. There is something a lot more approachable about objects that no longer have a purpose in the world. They just seem vulnerable.
MJ: So, all the stuff upstairs will be part of your Fusebox performance? And it is going to be both an installation and a performance?
A: Yes, There are ten different costumes, each telling different stories and they will be installed at Big Medium's Canopy Gallery. I will wear one costume for the opening night performance on April 18th . The main performance, a collaborative work with members of the Austin community will be on April 22nd. I will tell two stories using two costumes and the rest of the costumes will be worn by the others to dance and create movements.
MJ: I am really looking forward to that. These objects are so interesting on their own, to look at. But I really want to see them in action, in motion.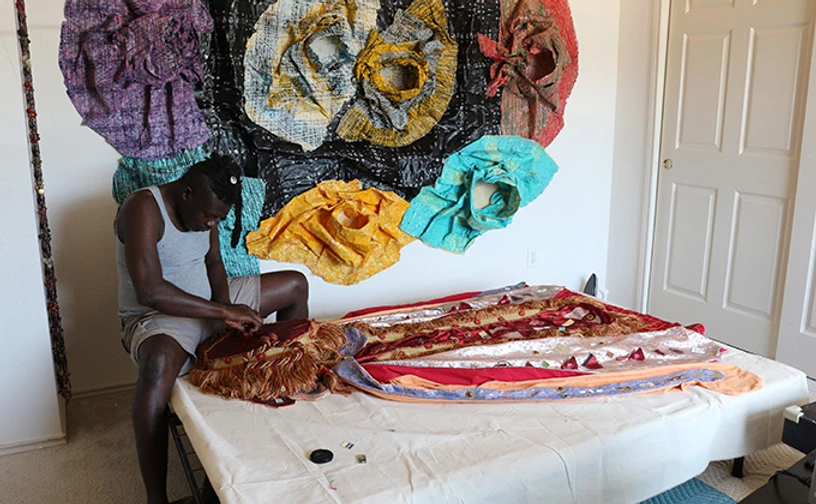 A: Exactly. The idea I had when I first started making them was not to perform with them but thinking of them more like sculpture. But after I sewed the second one, the third one, and so on, I felt like if I can wear them and collaborate with others wearing them as well, that together we can tell the stories to a wider audience, at once and bringing them to life beyond standing in the gallery as sculptures.
All images courtesy of the artists except third photo, down from top, of Magdalena Jarkowiec attached to a box is by Luis Alberto Garcia Martinez.